The changing room or apodyterium is the room with most personality. The baths' users entered and exited through this room, where they also changed their clothes and chatted. With a square perimeter, it is structured around its central element, a small octagonal pool surrounded by columns, and is projected above the roof with an octagonal lantern supported on arches and pillars. 
The capitals are profusely decorated with plant and animal motifs, which are interpreted as symbolic references to the Christian earthly paradise. The ceiling is made mainly with volcanic stone, with a number of Andalusi-type openings. The apodyterium marked the entrance or exit (depending on the direction taken) of the frigidarium. The room's current appearance is the result of the restoration made between 1929 and 1932, when it was opened to the public.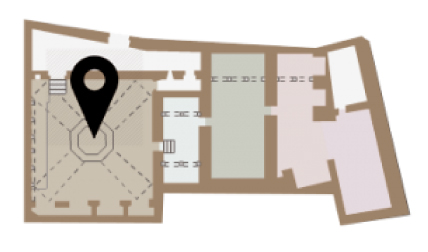 It is the largest room and was used
as a place for social intercourse.